You are considering a trip aboard Disney's Star Wars: Galactic Starcruiser or maybe you already booked your trip. I have several tips to make your experience aboard the Halcyon even better. Also check out my list of most common asked questions about the Galactic Starcruiser.
1. Book During the Week to Save Money
Rates are cheaper on the weekdays compared to the weekends. You can save hundreds of dollars this way.
2. Don't Sleep in Before Your Excursion to Batuu
You and your group might feel that you are having more fun on the ship, but there are a lot of missions you still need to complete on Batuu. I especially recommend getting to the park early if you want to make a droid or a lightsaber and do not have a reservation. My friends were able to get walk-up reservations because they were there right when they opened. Plus, you want time to eat, go to Oga's Cantina, and ride Millennium Falcon and Rise of the Resistance.
Your entire adventure revolves around your datapad, aka your cell phone. Your itinerary, essential communications regarding your missions, and the ability to hack into areas are all on the data pad. Your battery will die quickly between that and all the photos you will take. There are plenty of charging points throughout the ship, but you want to avoid being tied to a plug when you get a transmission that Chewbacca needs help in the engine room immediately. The front desk has extra if you need one.
4. Dress Up
You paid for an immersive experience, so dress up. You can become a resistance member, a secret Sith, or a stormtrooper. Would you ever see a human wearing a Mickey Mouse shirt walking through Mos Eisley Cantina?
Plus, my favorite part was walking around Galaxy's Edge in full costume. As Halcyon guests, we did not have to follow Disney's strict costume rules. I dressed as a Twi-lek with a full headpiece and had so much fun interacting with other tourists.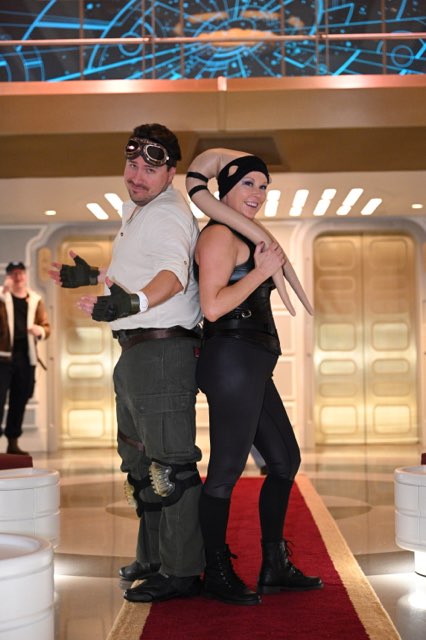 5. Play Along
Along with dressing up, you need to play along. The experience is supposed to be immersive. Get a backstory. Who are you? What planet are you from? Why are you on the Halcyon? You are paying a lot for the experience of being inside your own Star Wars story. Embrace it.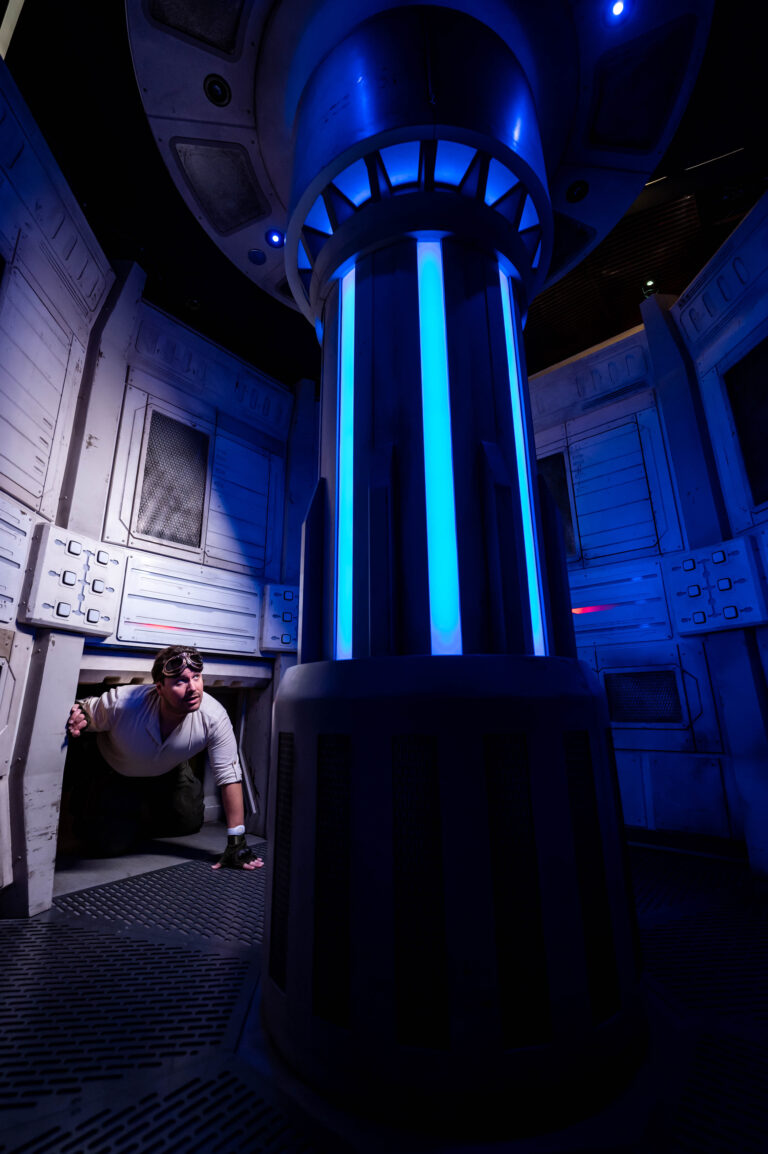 6. Book a Private PhotoPass Session
This tip is questionable. When my group went on Disney's Galactic Starcruiser, the Photo Pass session was only $99. Now the price has increased to $399. I find that to be a little ridiculous but I do think it is worth sharing.
You don't want to spend all your time taking photos. Plus, I doubt other guests will appreciate taking time out of their experience to take photos for you. You can hire a professional photographer for a 30 minute session aboard the ship.
The photos came out awesome and were more creative than we would ever have taken on our own. I just don't know if I would pay $399.
Tip: Book during the week when prices are lower.
7. Bring an Eye Mask
The coolest part of the guest rooms aboard the Galactic Starcruiser is the window looking out into space. Bright lights surround the window, and the only way to turn off the lights is to close the shades of the window. It would have been awesome to turn the lights off and look out into space while going to bed. If some of your party want to keep the window open, I recommend an eye mask.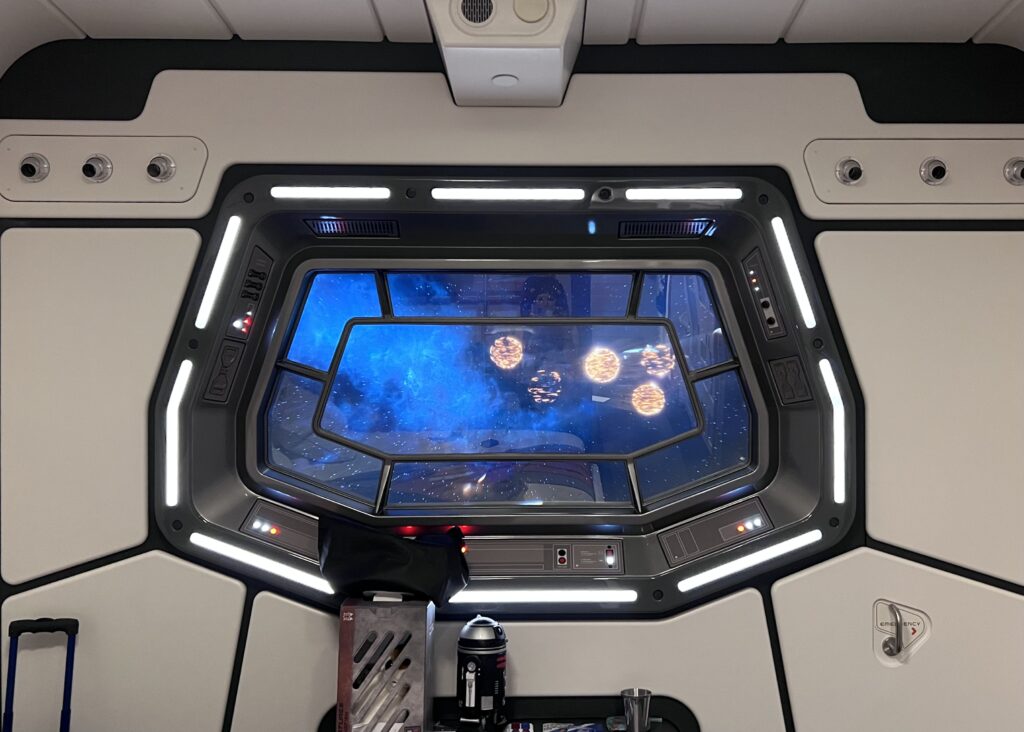 8. You Can't Buy Star Wars Souvenirs
Disney does not want to ruin the illusion for guests on the Starcruiser and Galaxy's Edge. Therefore you will not find any Disney Star Wars branded merchandise on the ship or Batuu. You can find merchandise advertising the Chandrilla Cruise line and rare kyber crystals at Dok-Ondar's Den of Antiquities, but nothing that says "Disney's Galactic Starcruiser.
This is until you leave the ship on your last day. There will be a stand selling Galactic Starcruiser shirts, hoodies, and other Disney-branded souvenirs.
9. Don't Arrive Too Early on Day 1
We arrived at 1130 and were able to board around 1230. We were excited to get on and explore the ship. Although the lounge and restaurant were open, there wasn't much else to do until later in the afternoon. So I recommend arriving a little later if it means a less stressful morning for your family.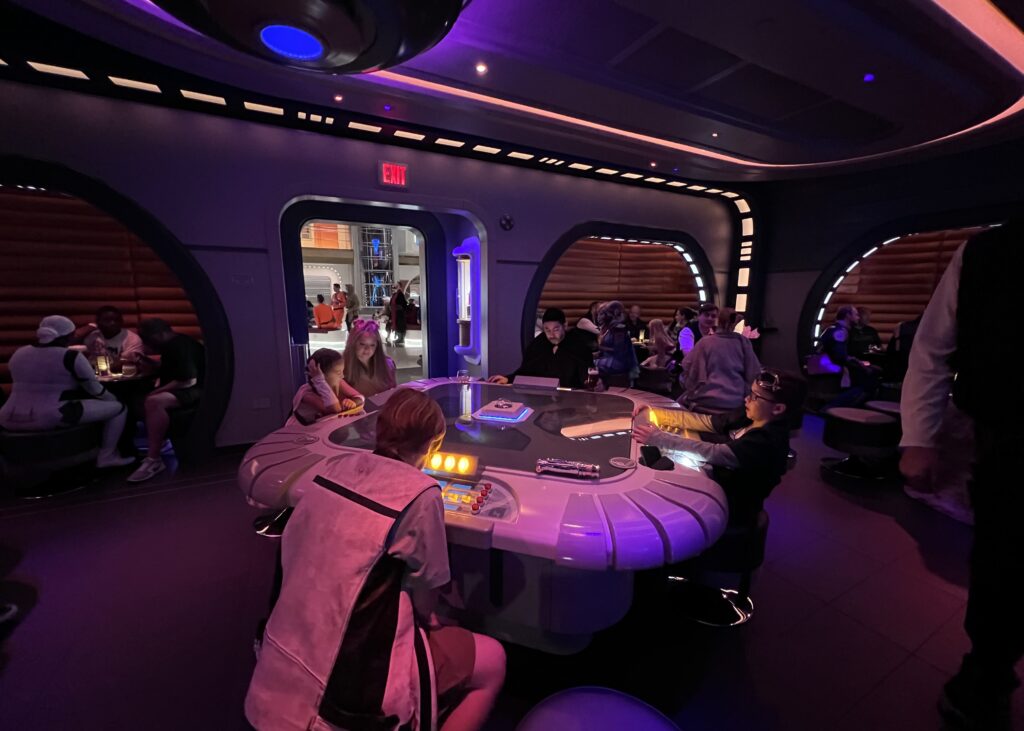 10. Take Part in All the Events
Sign up and go to as many events as you can.
You only have two days, and this is probably a once-in-a-lifetime vacation. Go to Oga's Cantina. Make a droid. Play Sabacc. Join the Fashion Show. Sample the fantastic cocktails and late-night food in the lounge. And most of all, have a blast.