After Budapest, I flew to Frankfurt, Germany, to meet up with one of my favorite people. Dave lives in Colorado, not far from my winter home of Vail, yet it took traveling around the world to hang out. I had been to Frankfurt 11 years ago, but it was a whirlwind Europe tour, and I didn't remember much. After I finally reunited with Dave, we spent the next few days exploring, eating, and drinking. Here is my list of must-do's (and don'ts).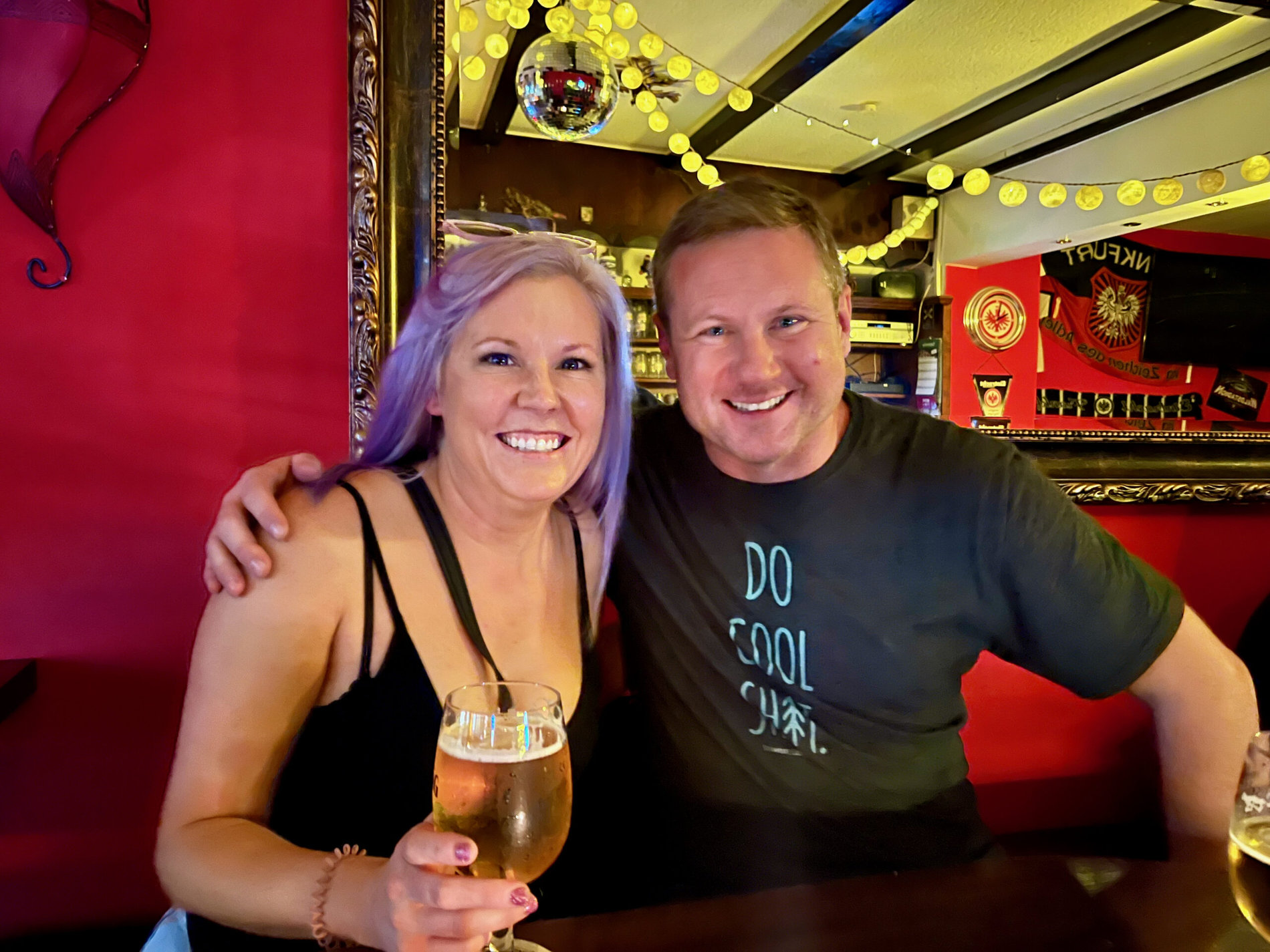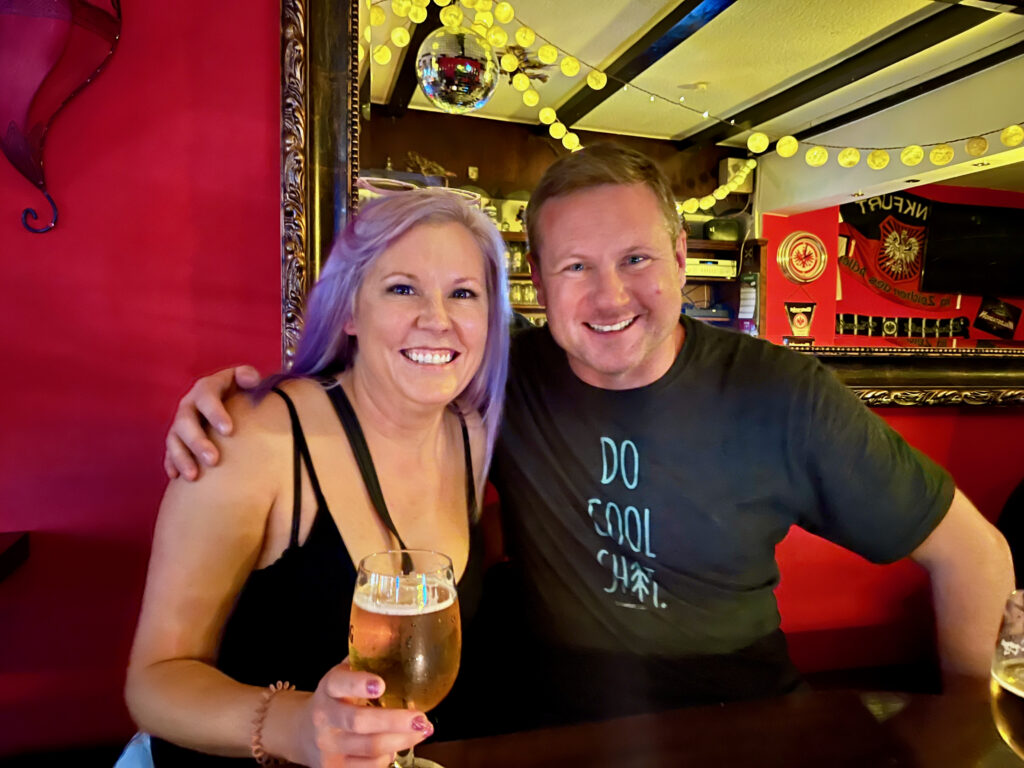 Take public transportation.
Public transportation is terrific in Frankfurt. It is clean and frequent; one ticket covers the trains, trams, and buses. Frankfurt has an "honor" system. There is no place to scan your ticket. My friend Steph and I tested the "honor" system once, and it didn't end well. Lesson: Plain-clothed police are frequent, and they do check. The stops can be confusing because many German words look and sound the same. Pay careful attention, and you will be fine.
Take the road less traveled.
I don't need to see that castle, museum, or monument in every tour book. They are pretty but full of tourists and look better on google. Instead, I went on my own adventure.
I attempted to find a peeing tree (aka Pinkelbaum). How can you not try to find a peeing tree? As part of the Frankfurt art initiative Komische Kunst (Funny Art), the tagline is, "For 300 years I was pissed at, starting today I piss back." I took the train to the stop and found I was in a nature area with hiking and biking called Oberschweinstiege. My heels and I tramped through the woods, following my GPS and ignoring all the stares. Then I realized it was inside a restaurant at a campground, and I couldn't get in. I would say it was a failure, but how many tourists ever find this area?
Next, I found a subway station entrance that looks like an old tram car that has crashed into the concrete sidewalk. The brief background is that locals were not happy with the expansion of the city's transport system. The architect designed the subway entrance to give people something to smile about during the construction. The Bockenheimer Warte subway station is located along Bockenheimer Landstraße to the west of Frankfurt's city center.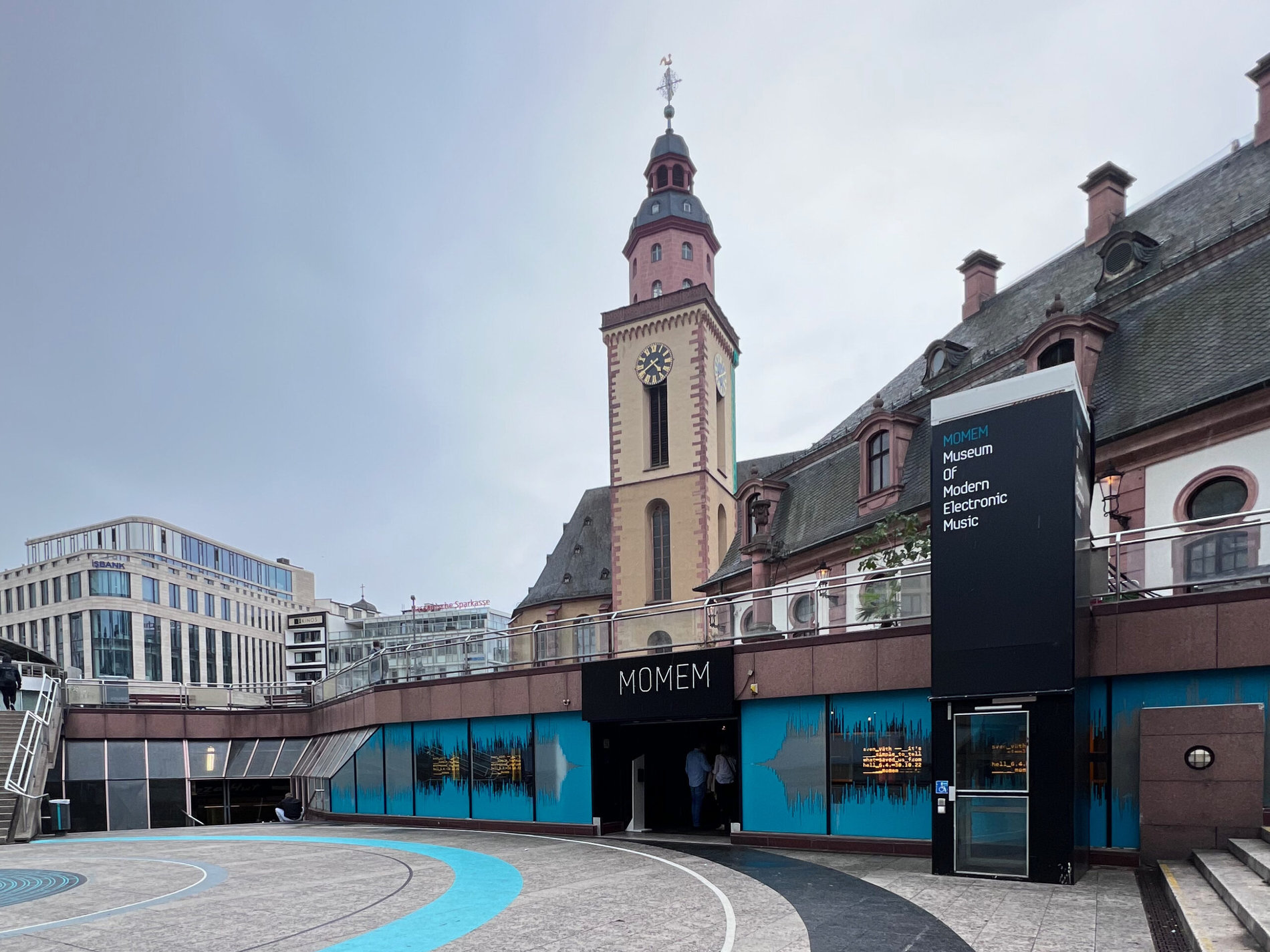 After taking the metro back, it started to rain, and I was standing under an overhang waiting for it to pass when I realized I was next to the Museum of Modern Electronic Music. I went from getting soaked in the rain to spinning records from the 80s and 90s. The museum is located right at the exit to the Hauptwache metro stop.
Walk into a bar where at first, you don't seem welcome.
This all started because we were trying to find a bar called Citybeach. After walking upstairs that smelled like urine and through a parking garage, we saw what looked like a Vegas Style day club. It was nighttime, so the only people left were the ones lying in chairs, too drunk to make it home.
We needed beer stat and found ourselves in a local watering hole called Anna's where we were the only people who spoke English. We got the typical "outsiders" stares, but we held firm.
This is a good lesson: Don't judge a book by its cover. The bartender and name sake, Anna, was very sweet. And the guy I understood as the "I'm pissed that outsiders are in my bar" was the source of my hangover the next few days. He stopped and asked us where we were from as he was leaving. He has worked all over the US as a cook, even in Vegas. He invited us to the "24-hour" bar.
We found a dive bar by the train station called Gleiss 25. We were mainly welcomed. One of the bartenders hated us, but she seemed to hate everyone, so no hurt feelings. Over the next two nights, we danced to classic American sing-alongs. Vegas meets Cheer's (If you are too young, google it). Same people, same seats, same songs, and same stares from the commuters going to work at 7 am. It is right next to the main train station which is worth seeing in it self.
Do not find the new love of your life in the Red Light District.
No matter what she says, she isn't in love with you. And the urban campers have already called dibs to the sidewalks. The red lights in the windows remind you of Christmas, but sitting on Santa's lap takes on a new meaning and ends with a dose of Ceftriaxone and azithromycin (medical humor).
Drink Apfelwein (apple wine) in Sachsenhausen
We went to an Irish Bar (I see you shaking your head), Sachsenhausen. It is a cute neighborhood with cobblestone streets, many bars, and beer gardens. We were ordering beers when someone ordered this large pitcher of some concoction. I didn't know what it was, but I wanted it. 1.5 liters later.. we weren't tired anymore and went back to the 24-hour bar. The Apfelwein isn't too sweet like a cider. It is very light and refreshing (and cold).
Eat on the Main River.
We found a boat tied up along the edge of the Main River. It turned out to be a restaurant specializing in Döner Kebabs. German Kebabs contain a shredded meat mixture with sauce and chopped veggies wrapped in a warm pita. We figured that there were a lot of locals, and the menu wasn't in English, so it must be good. It was terrific, and they transformed the boat's top into a dining area. Look for it near the bridge of locks.