I was determined to make it up to the Merry Cemetery along the northern border of Romania. I was planning to take the train or a bus until I spoke to several locals who told me that Romanian trains are very slow. They are from the Soviet era, and the tracks are not maintained. The buses were infrequent and not very reliable.
I met a new friend on my food tour in Bucharest who liked the idea of my mission and enjoyed random attractions like I did. That is how I ended up on a four-day road trip through Transylvania up north to Ukraine in a car with a stranger.
Check out my complete list of unique places to visit in Romania.
Day 1: Brasov to Sighisoara
Brasov
Brașov is a beautiful medieval city with cobblestone streets and cute cafes located in the Transylvania region of Romania. It has the third narrowest street in Europe- Strada Sforii and boasts its own "Hollywood" sign. Check out the Black Church, named after a fire that destroyed much of the town, but the church remained black with soot.
Unique Stop: Bran Castle
The first stop on our road trip was Bran Castle, or Dracula's castle. I promised this would be a unique road trip, but I had to see Dracula's castle. First, Bram Stoker's Dracula is loosely based on Vlad the Impaler. Bram Stoker nor Vlad the Impaler had anything to do with Bran Castle. But Bran Castle does look creepy, and you can walk through it for a small entrance fee. Go during lunchtime when everyone is eating. After lunch, the line was long. Plus, we were able to eat without a wait.
Where to Eat: Trăsura cu Bucate A roadside stand with local food and friendly staff. Try the Mititei (Romanian Skinless Sausage).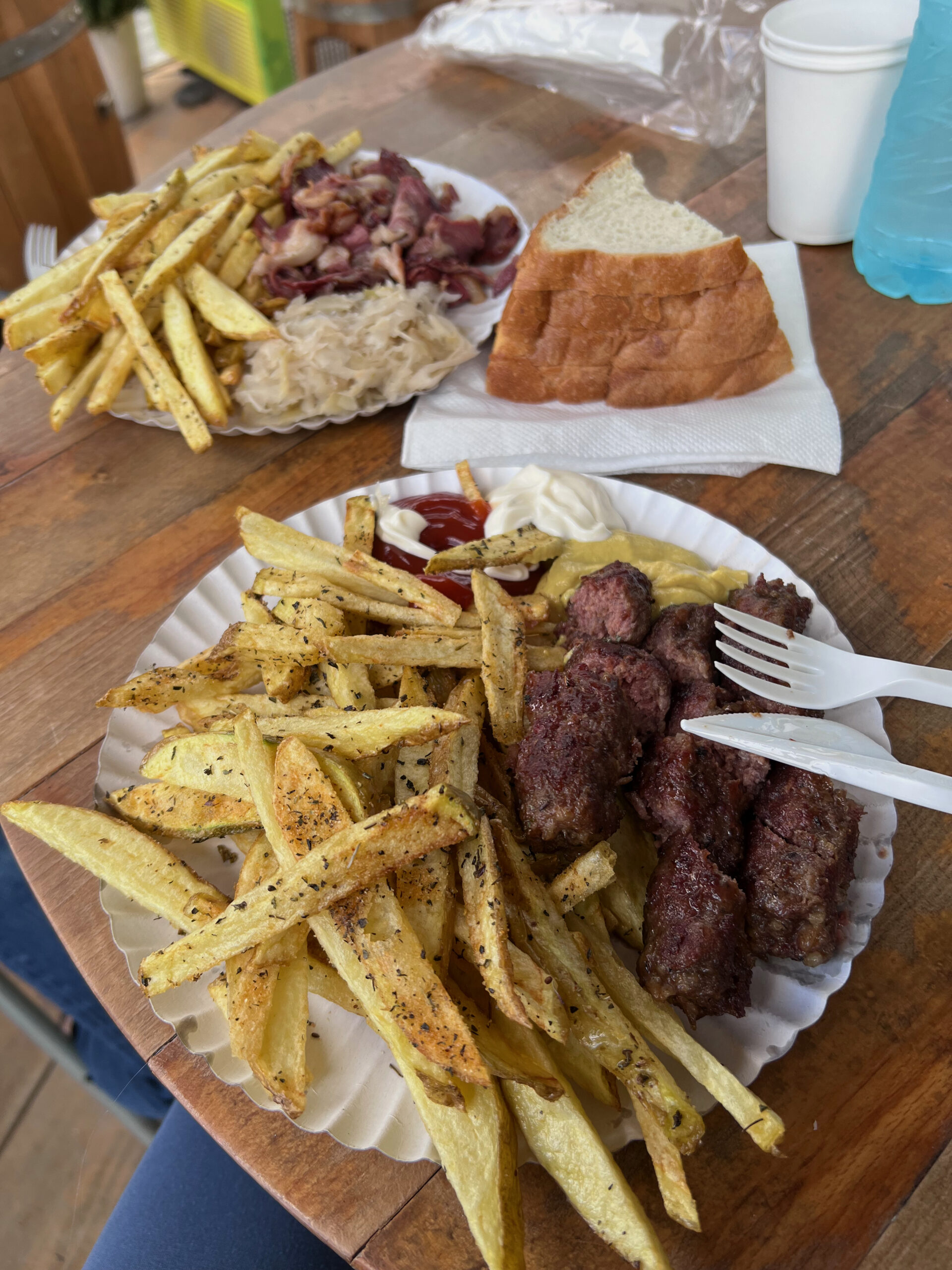 If you want to explore a new place and find things off the beaten path, I recommend Geocaching. People hide "treasure" worldwide and post coordinates and clues for others to see. I talked Rahat into stopping at a Geocache not far off the highway.

We pulled off onto a dirt road and followed a windy road through rolling hills until we came to a small parking lot. After getting out, we realized we were at a nunnery. We found a trail and followed it through the woods. Suddenly we were in front of a structure carved into the hill and covered with wood paneling. The next thing we knew, a man yelled at us, asking if we spoke English and saying he would give us a tour of the monastery if we wanted. Monastery? Now, I was trying to cover up my shoulders and hide my cleavage.

This stop wasn't about visiting the monastery, although it was gorgeous. It was about pulling off a random road and seeing what you find.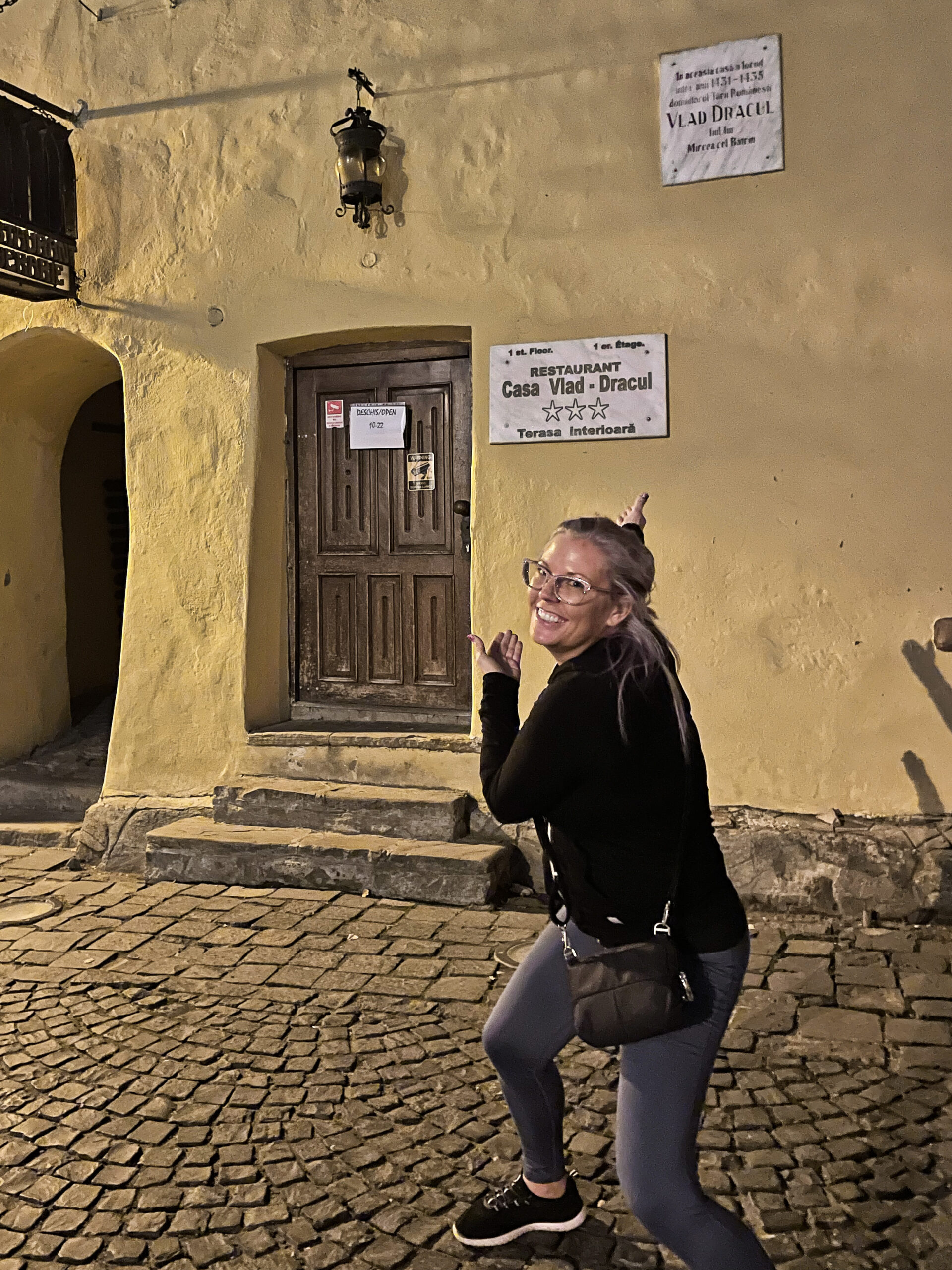 Sighisoara
The best way to see this medieval town is to walk around at night. We wandered old cobblestone streets with only a few other people. Then I heard a band playing in the distance.

Let's go! Poor Rahat agreed to follow me. By the time we found the bar, the band was finished, but we found a cheap local restaurant and a good view of the town. You should always be careful walking around any new city, but I felt safe walking around Brasov (except in the cemetery).

On the way home, I took a shortcut through what ended up being a cemetery. It was completely dark, and each turn that I thought was the street was another grave site. I finally found the exit and headed to my hostel when a black cat crossed my path. I ran the rest of the way.

Unique Places to See: The Covered Walkway with 176 steps and Vlad Dracula's childhood home.
Where to stay: Venesis House (Strada Ecaterina Varga 12 a, Sighișoara 545400, Romania) – It has a hostel vibe with a common room and kitchen but clean private rooms. And the man who ran the place was so sweet.
Next Up: