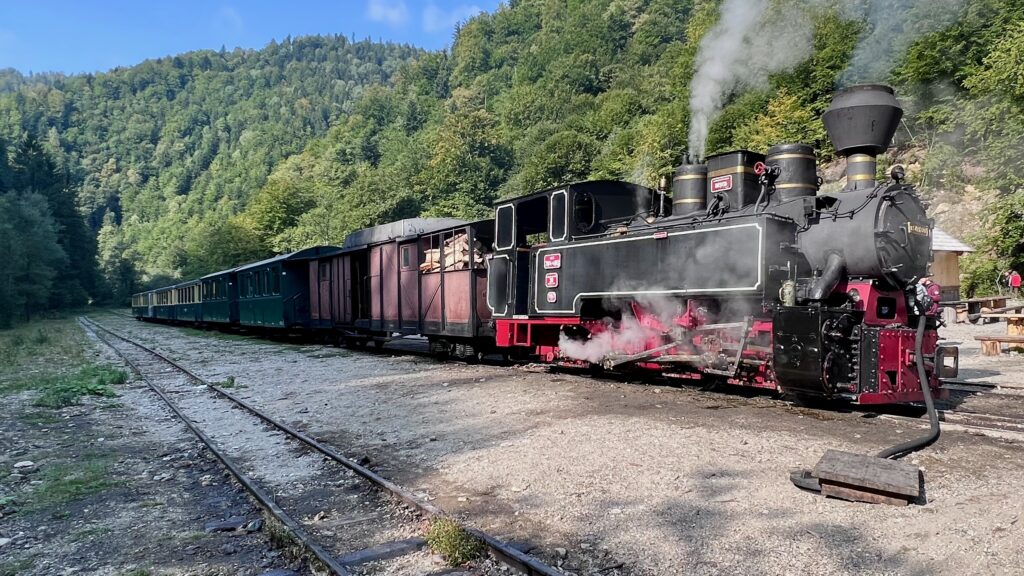 Day 2: Sighisoara to Vișeu de Sus
For information on what to do in Sighisoara, check out Day 1.
Day 2 was a long day of driving but had beautiful countryside views. The plan was to get to Vișeu de Sus so we could take a ride through the Romanian forest on a steam engine train.
We stopped for lunch at a random gas station restaurant, found a royal family crypt, and discovered that bicycles are the primary mode of transportation in small villages.
Unique Stop: Teleki Castle and Family Crypt
Another Geocache find. We took a narrow dirt road up to a cemetery in search of the crypt of the Teleki Family. The Teleki family is an old Hungarian noble family dating to the Holy Roman Empire. The door to the crypt was open, and although the entrance was gated, you could see the remnants of tombstones of several of the family members. The crypt was vandalized, and the bodies were removed when the family fled during World War 2. Even if you aren't into geocaching, take in the view from the top of the hill. Located in Sárpatak Glodeni, Romania.
Check out my complete list of unique places to visit in Romania.
Where to Eat: Stop at a random restaurant on the side of the road. Choose something that seems so local; it is out of your comfort zone. The camera function on Google Translate will help you read any menu. We stopped at a gas station restaurant and had a fantastic meal.
Where to stay: Casa Mocanitei (Strada Moldova 4, Vișeu de Sus 435700, Romania) – This hotel is right across the street from the Mocanita Train. The room was more of a mini-suite with a sitting area and bedroom and was very clean. There is a restaurant onsite that was perfect for a late dinner.
---
Day 3: Merry Cemetery and the Ukraine border
The best way to get to know someone is to wash their underwear. Before our road trip, Rahat and I both needed to do laundry. While he was working, I took one for the team and took our dirty clothes to a laundry mart I found online. I had planned to get some work done while I waited, but I ended up talking to the owner. We had so much in common; it was great to hear about Romanian from someone with my mindset. Before I left, she recommended the Mocănița Maramureș.
A narrow gauge steam engine train that takes you into the Romanian forest up the Carpathian Mountains. Although it was a local tourist attraction, we were the only English-speaking people, making it very authentic. The signs didn't even have English translations, and the instructions given by the conductor were only in Romanian.

You can buy tickets online up to 48 hours prior. After that, it is possible to purchase tickets at the ticket counter but beware that the train leaves on the dot, so arrive early. The ride takes about 4.5 hours, including stops for breakfast and lunch. There is an option to include snacks and lunch in the ticket price, but you can also buy food el la carte. There is also entertainment and a hiking trail at the lunch stop.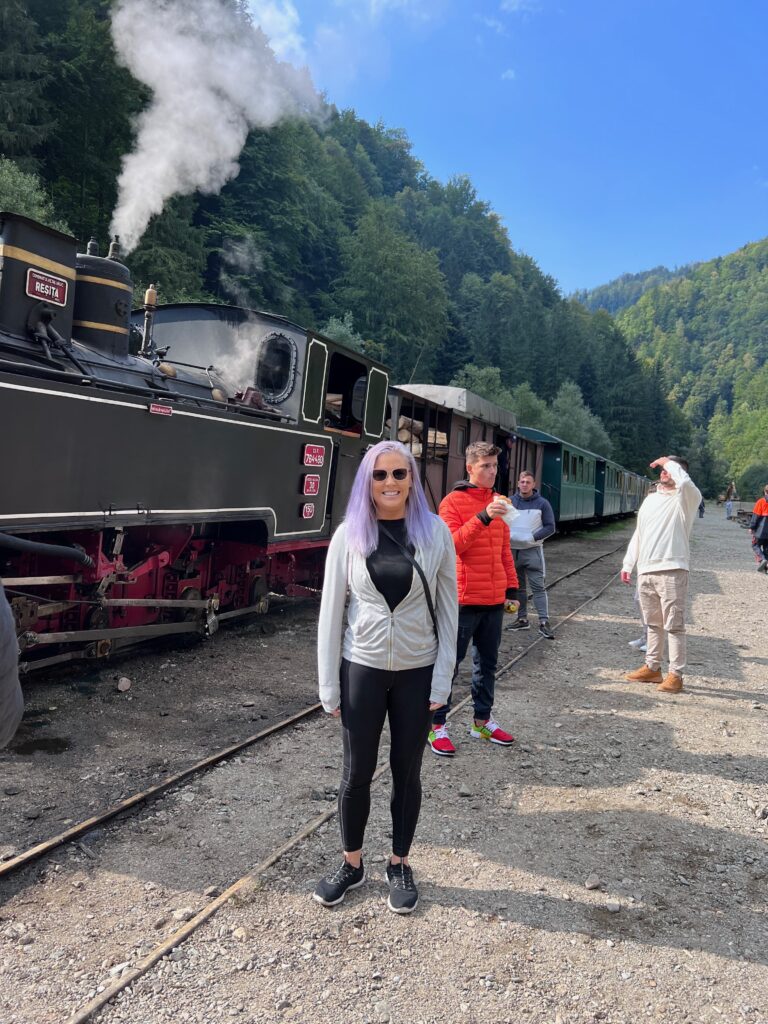 The Ukraine Border
First, for anyone about to yell at me, consider I was as close to the current conflict as Massachusetts is to Ohio. There is no reason not to visit northern Romania. On that note, please do your research, as things can change anytime.
A small river separates the northern border between Ukraine and Romania. The main road we were on runs parallel to the river. We stopped for lunch at a restaurant on the Romanian side of the border crossing. It was a unique and weird feeling to be staring into Ukraine. A place that seems so far away when watching it on the news.
What was the border like? It is one of the furthest borders with Romania from the conflict, so I wonder how busy it got at the beginning of the war. There weren't many cars going in either direction, and one box truck got turned away trying to enter Ukraine. A few people walked in both directions and appeared to be commuting for work or leisure. There were tents with supplies, but no one was utilizing them.
The Merry Cemetery in Sapanta, Romania, contains beautiful blue crosses depicting the life stories and final moments of the deceased in vibrant paintings and funny limericks. Compared to other cemeteries, the graves in Sapanta describe an accurate, if sometimes negative, portrayal of the person's life. As the creator, Dumitru Pop, states, "There is no hiding in a small town."

One cross reads, "Underneath this heavy cross. Lies my mother-in-law poor… Try not to wake her up. For if she comes back home. She'll bite my head off." Another shows the deceased as the town drunk.

There is a small donation to enter the cemetery, and it closes at sunset.
Where to Stay: La Conacul Vesel (775, Săpânța 437305, Romania, +40 740 523 043) – Situated across from the Merry Cemetery, this hotel is the perfect place to finish your road trip. I suggest calling to book through the hotel itself. We did and were given an enormous room with a wrap-around balcony looking over the cemetery. I can't guarantee it was because we called the property directly instead of using a third-party site such as Hotels.com, but I feel that helped. They also serve an excellent breakfast for a small fee.
The next day we headed to Cluj, Romania, where we said goodbye. I left on a train to Hungary, and Rahat stayed to hang out with a Tinder girl.