Let's face it. Our international summer plans are over. But with the US opening up, we will be able to (responsibly) explore the US and Route 66 during the pandemic. Route 66 has been on my bucket list since I saw the original Disney-Pixar movie, "Cars." My boyfriend and I had the chance to take Route 66 from Chicago to New Mexico, and we wanted to share our favorite attractions.
Route 66 During the Pandemic
By no means is this list an all-inclusive guide to Route 66. Many attractions and restaurants are closed. And each state has different guidelines regarding COVID. All of the recommended attractions in this article are promoting social distancing. Many are outside and those inside are at low capacity. Please call before visiting these attractions as regulations are changing daily.
TRAVEL TIP:

Route 66 and the towns along it died with the building of a faster and more convenient route. Many of these towns are still there hanging on by a thread. Downtowns are almost empty. Hotels and gas stations closed and falling apart.

To get the true story of Route 66, don't take any shortcuts. Drive through town, visit that one restaurant left and talk to the locals about the past.
Route 66: Illinois
(Due to Illionois state regulations, a majority of attractions were closed.)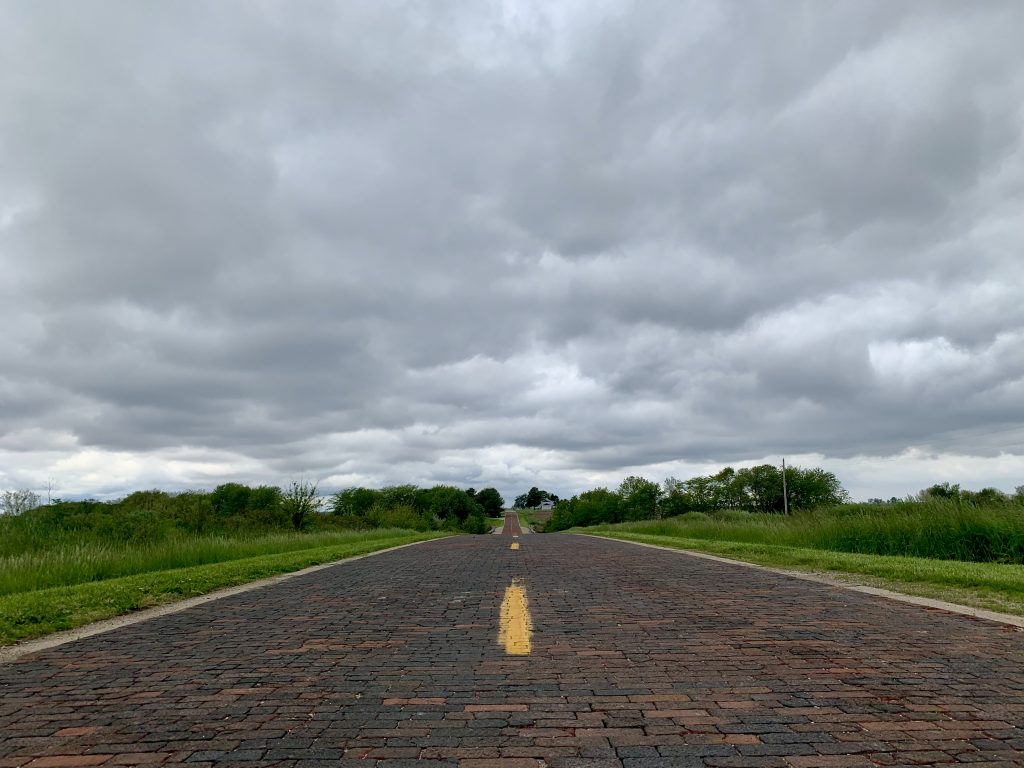 Original Route 66 Brick Road
After Springfield, there is a 1.40-mile long brick section of the original Route 66. Not very long but a great piece of history. Directions: Between the towns of Chatham and Auburn on Snell and Curran Road.
Although the businesses and attractions in this small town were closed, it was worth a stop. There are several giants including, The Nuyan Giant and The Giant Hotdog. Murals and historical markers cover the town. There were several Route 66 antique and collectible shops that looked interesting. The COVID shut down regulations really put a new perspective on "window shopping." I will go back someday when the world returns to normal.
Fun Route 66 interior. Awesome food. Try the Reuben or the Chicago Dog. It was one of the few Route 66 restaurants we found open in Illinois.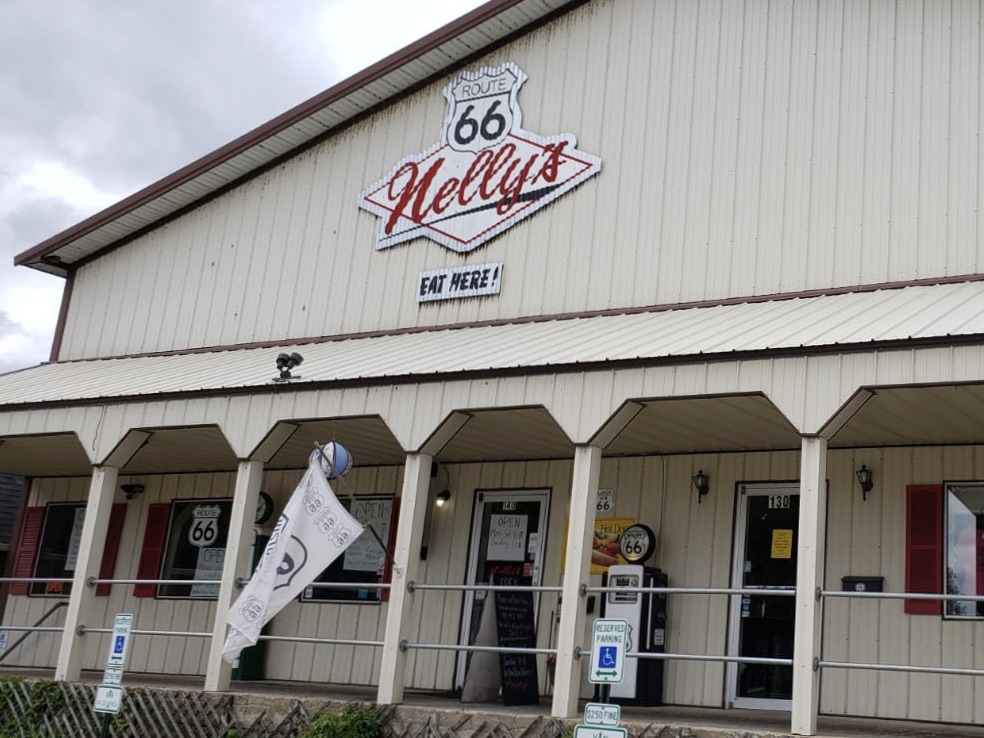 The Chain of Rocks Bridge was part of Route 66 from 1936 to 1968. It was built with a 22-degree bend to appease boat traffic. As the cars grew in size, the curve became a point of congestion and travel delays. A new bridge was built, and the Chain of Rocks Bridge was decommissioned. Today, it is a hiking and biking trail. It is a convenient point to stop and stretch the legs. We had a snack and enjoyed a glass of wine we had packed (passengers only).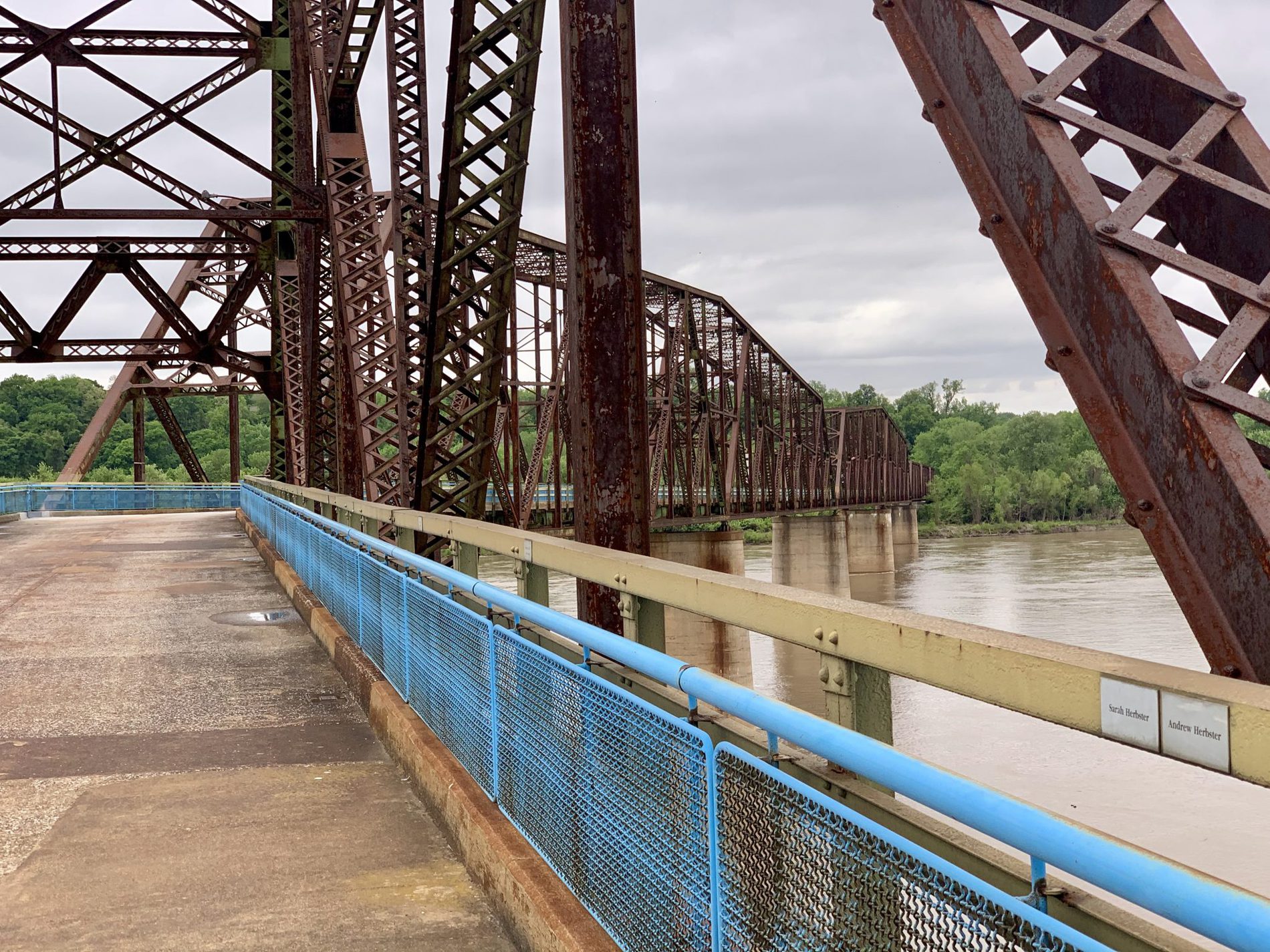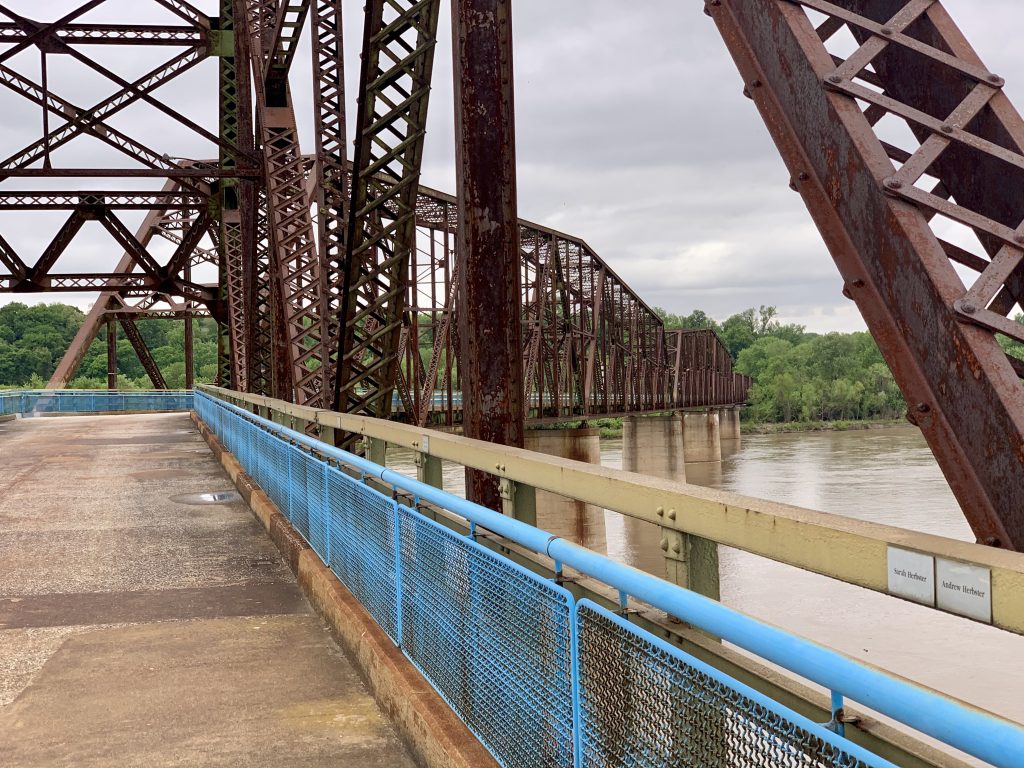 Guide Book: EZ66 GUIDE For Travelers

If you want to follow the original Route 66, this is the guide. Written by a Route 66 historian, it contains turn-by-turn directions along the oldest sections of Route 66. It looks complicated at first, so I suggest you familiarize your self with it before taking it on the road.

The author gives his personal recommendations for the trip, including places not to go, unlike the Lonely Traveler or other big name travel guide who tend to recommend places based on hearsay instead of personal experience.

I do suggest getting a comprehensive guide book as a supplement. I used the Moon Route 66 Road Trip.
Route 66: Missouri
I am obsessed with Disney. I first got the idea to travel Route 66 after watching "Cars." Please watch it before you start on your journey. Although "Cars" is based on a fictional town, Radiator Springs, many of the characters and locations are based on the real Route 66. Do you remember the Wheel Well Inn that Sally and Lightning McQueen re-open at the end of the movie? It was based on the Wagon Wheel Motel.
The rooms are small and basic but affordable and clean. Check out Missouri Hick BBQ place (located next door) for dinner and the Cuba Bakery and Deli downtown for breakfast. The donuts are amazing.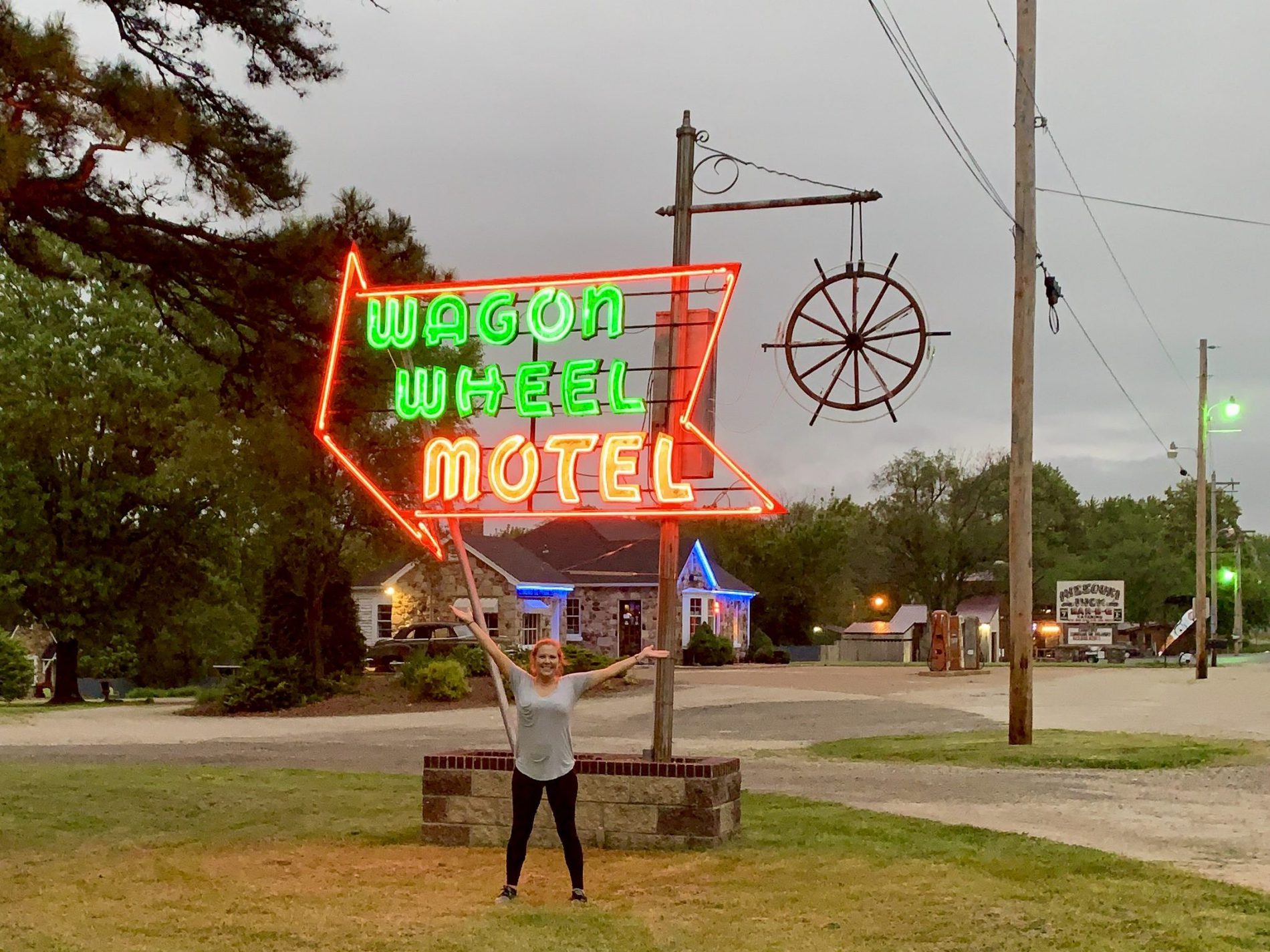 The Ozark's through Missouri
I hope you plan to stick to the original Route 66 from Chicago to LA. But if you don't (Shame on you), I highly recommend at least driving the section through the Ozark's in Missouri. Beautiful green rolling hills away from I-40. A real sense of what Route 66 was about in its heyday.
If you are still not convinced to take the original Route 66 route, remember the road less traveled allows for social distancing. The goal is to navigate Route 66 during this pandemic safely.
Who doesn't want to say they had fudge in Uranus? Uranus is a great place to stretch your legs and get a little laugh. See the world's biggest belt buckle. Visit the strange museum or shop in the general store. There is even an escape room (closed due to pandemic). As they say, "Everything you need is in Uranus."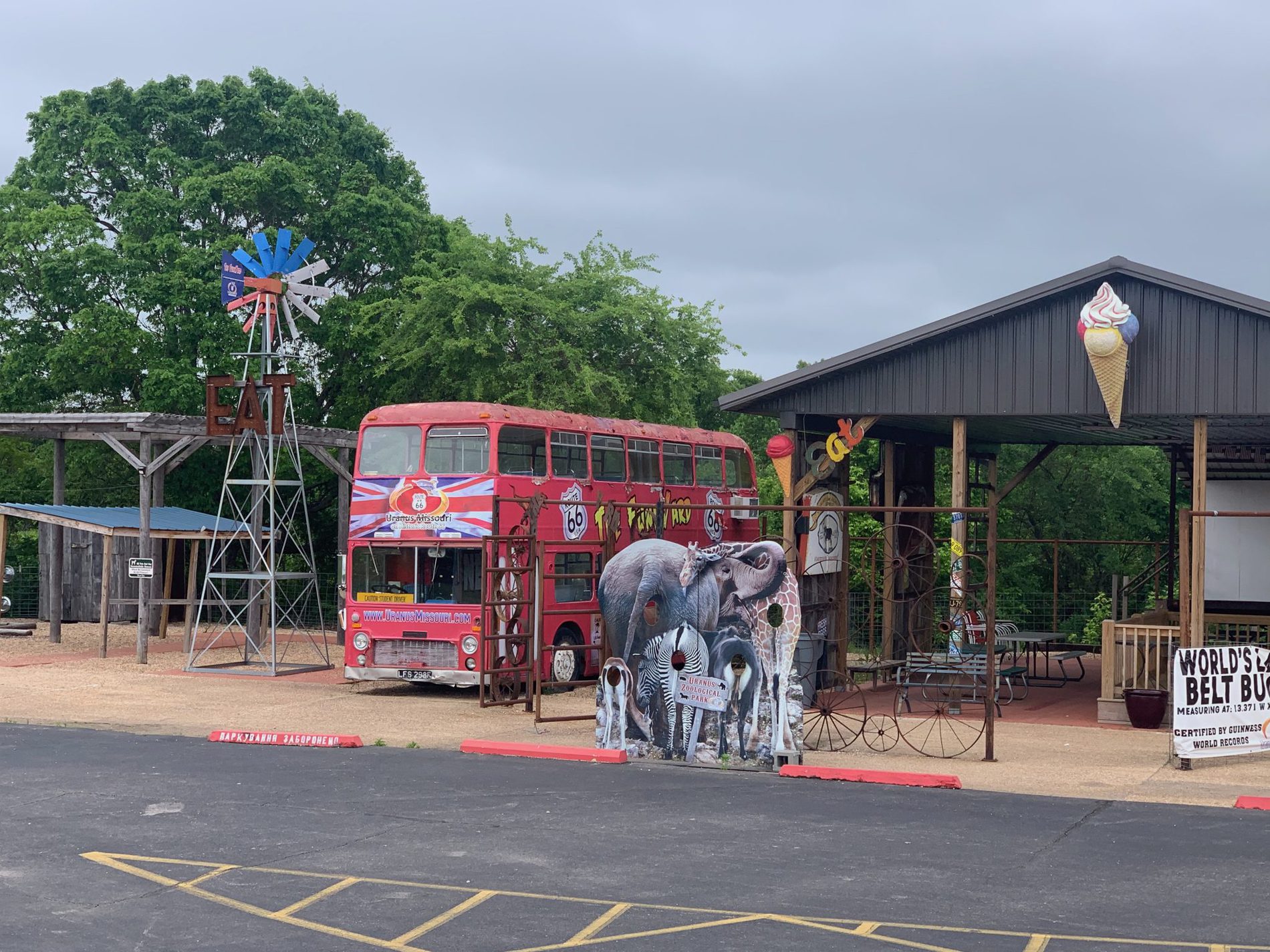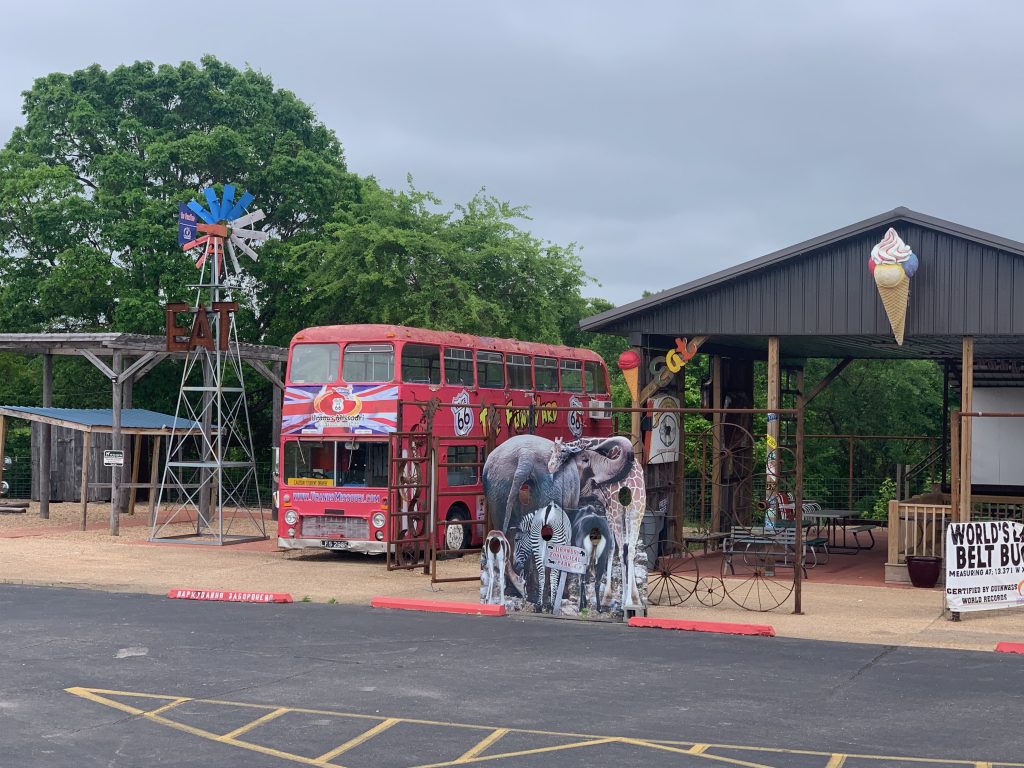 Travel Tip:

Pack lunch and drinks. There were a lot of excellent places to pull over and eat. It saved money and our stomachs. Greasy roadside food is excellent but can get old. Remember, you need to sit in a car for hours with your road partner. Maybe frank and beans are not the best option.
We happen upon this stop by accident, but I highly recommend it—a 1930 Route 66 gas station recreation with restored cars, signs, and other memorabilia. Although Gary died in 2015, his son in law took over, and he was excited to answer any questions we had about Route 66. The attraction is free, but there is a small gift shop if you feel like contributing to the future of the Sinclair Station.
Route 66: Kansas
On the right when you enter the town, there is a great place to pull over and eat lunch that is decorated based on the movie "Cars." Drive further into town and look out for "Tow Tater," the inspiration for 'Mater.
Travel Tip:

Illinois, Missouri, and Kansas are well marked with Historic Route 66 signs. Oklahoma and Texas only had sporadic signage and did not always follow the original route, so be sure to have your guide book handy.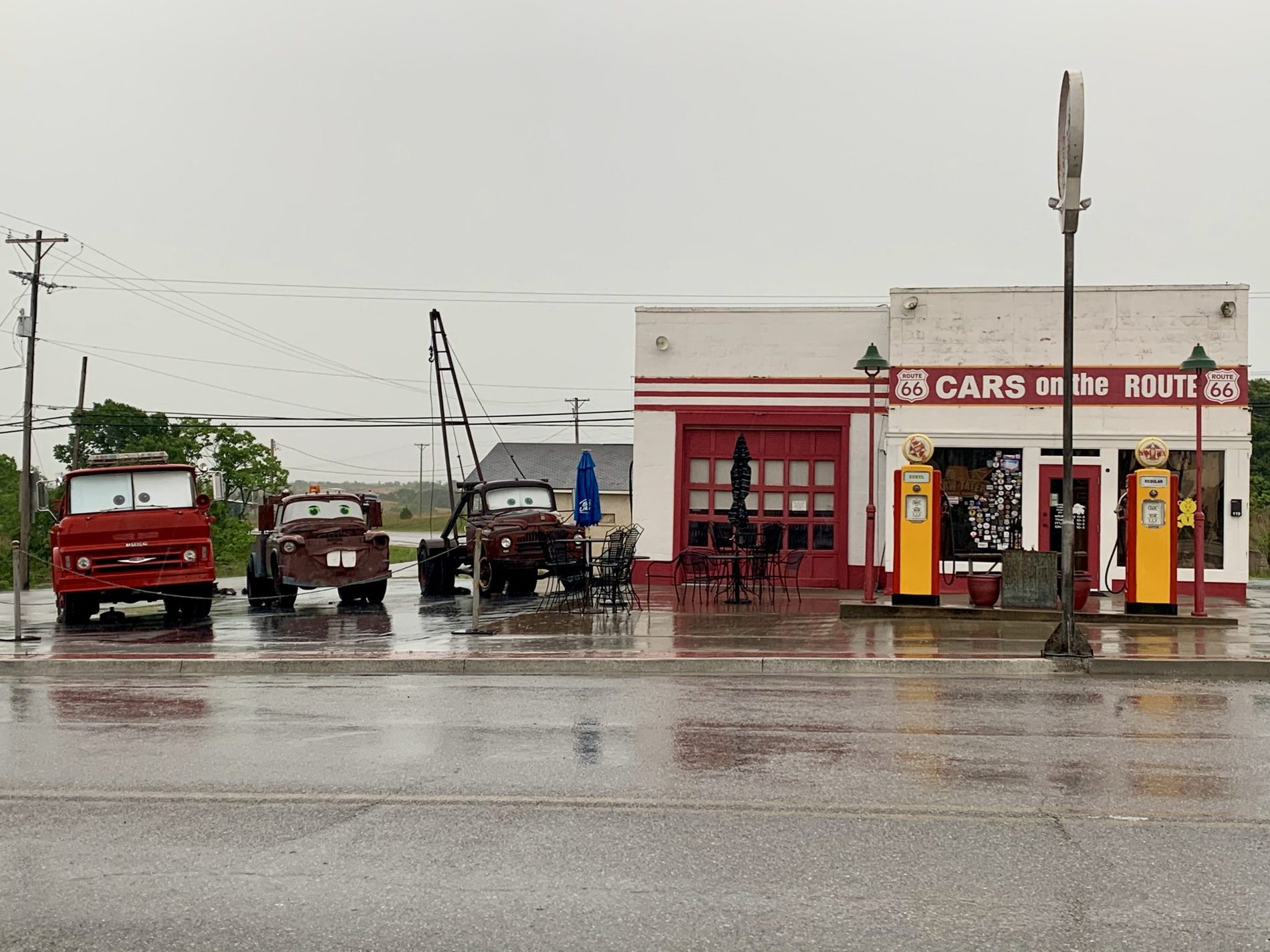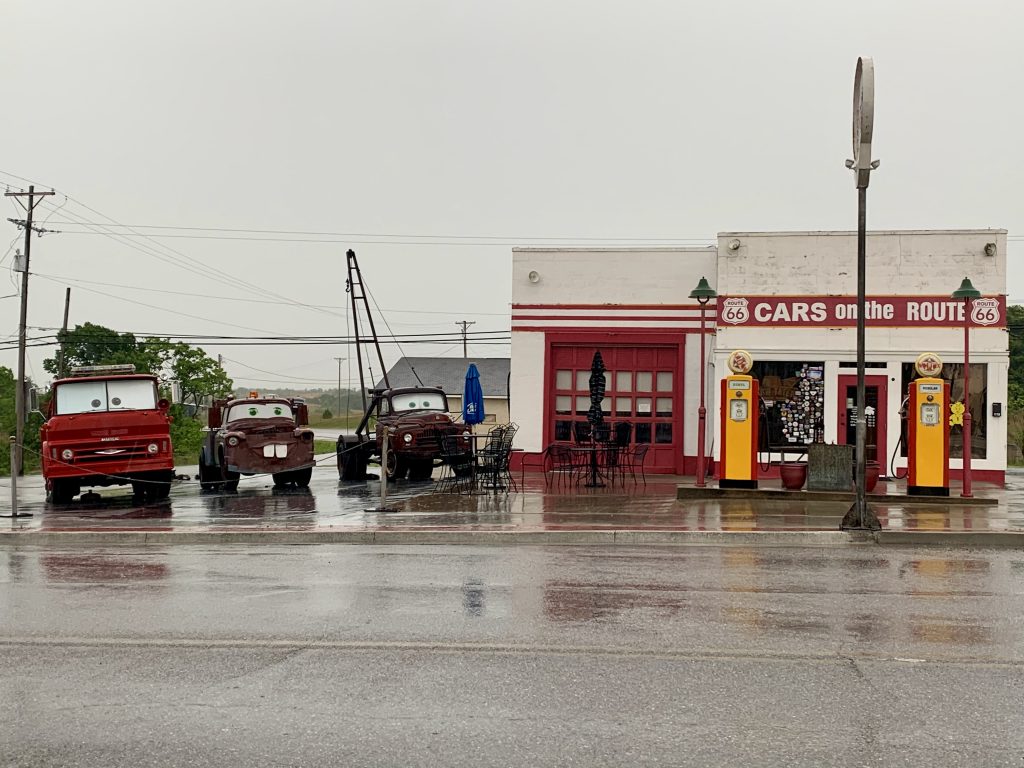 Route 66: Oklahoma
Awesome hotel downtown. It had a rooftop bar that overlooked Tulsa. The hotel was in a great area if you are looking for nightlife. It was surrounded by bars and restaurants. The staff was friendly. The hotel was clean. The food was excellent. Due to COVID, the included breakfast was delivered to our room. Free breakfast in bed. Yes, Please.
Original Route 66 Concrete Road
Even though Route 66 follows the interstate for a large portion of the drive, don't cheat and take the I-40. A large section of Route 66 in Oklahoma is on the original concrete. The light yellow roads with tiny curbs give a sense of original Route 66. It is slowly being replaced with asphalt, so drive it while you can.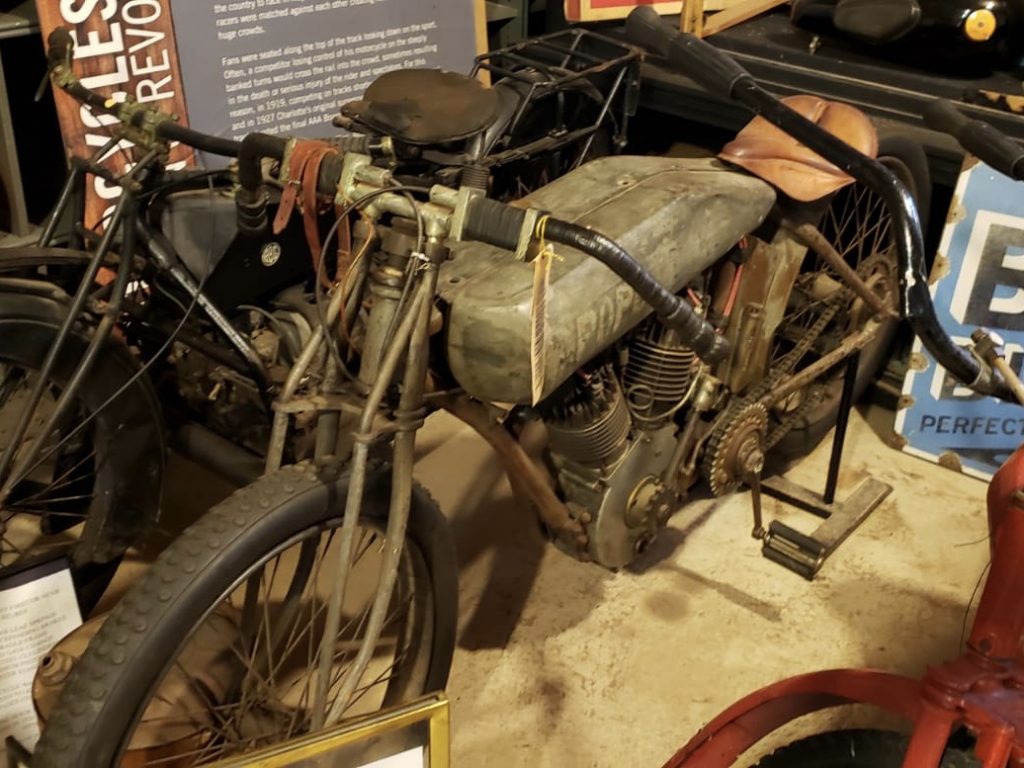 The owners have an extensive collection of old motorcycles, dirt bikes, and other memorabilia. Worth a stop even if you are not into motorcycles. It is free (they ask for a donation).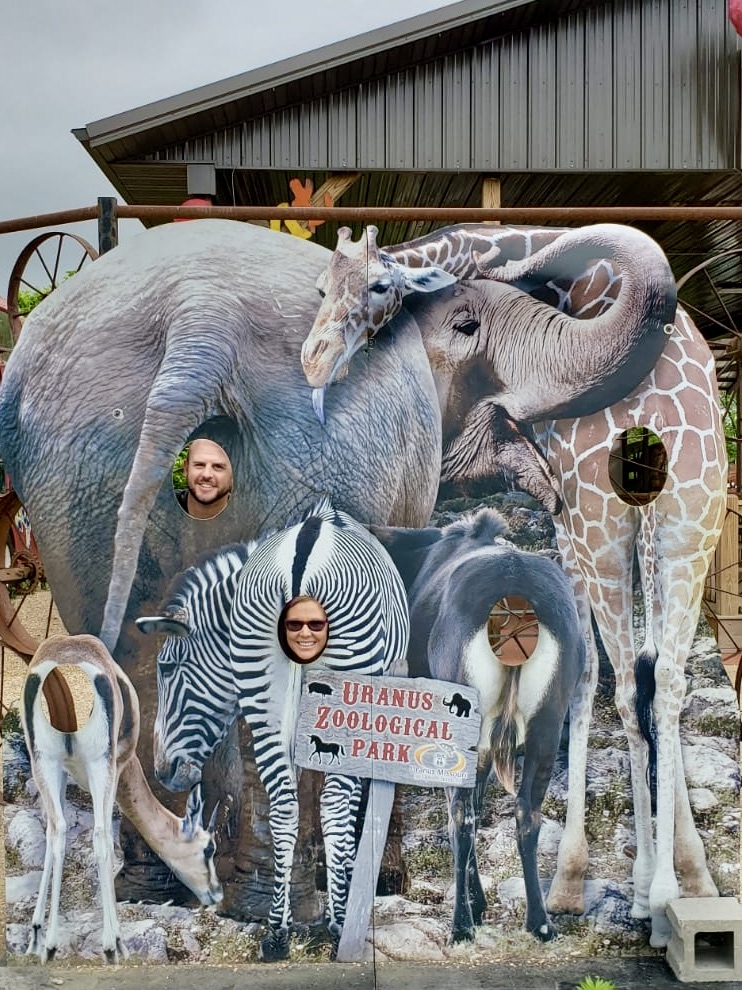 I met Sally from Disney-Pixar, "Cars!" If you saw the movie, you will understand my excitement. The character of Sally is based on Dawn Welch, owner of Rock Cafe. I recommend stopping for lunch. Get the bread pudding.
The Blue Whale is one of the first pictures that pop up when you google Route 66 attractions. It was built as a play area for the creator's grandchildren and is an excellent spot for a photo and a picnic lunch. It was recently sold to the town and is being renovated (at time of writing). I spoke to the son of the original owner. We both hope the town keeps the original charm. Note: You can not swim in the pond.
Route 66: Texas
You can't drive by this restored art deco gas station without feeling like you have seen it before. If you have watched Disney-Pixar "Cars," you have. Seriously, someone did stop because they recognized the building, but they couldn't figure out where they had seen it. I am glad I was there to educate them. The U-Drop Inn was the inspiration behind Ramone's House of Body Art. It is now a tourism office. Stop by for a photo and while in Shamrock, kiss a piece of the Blarney Stone.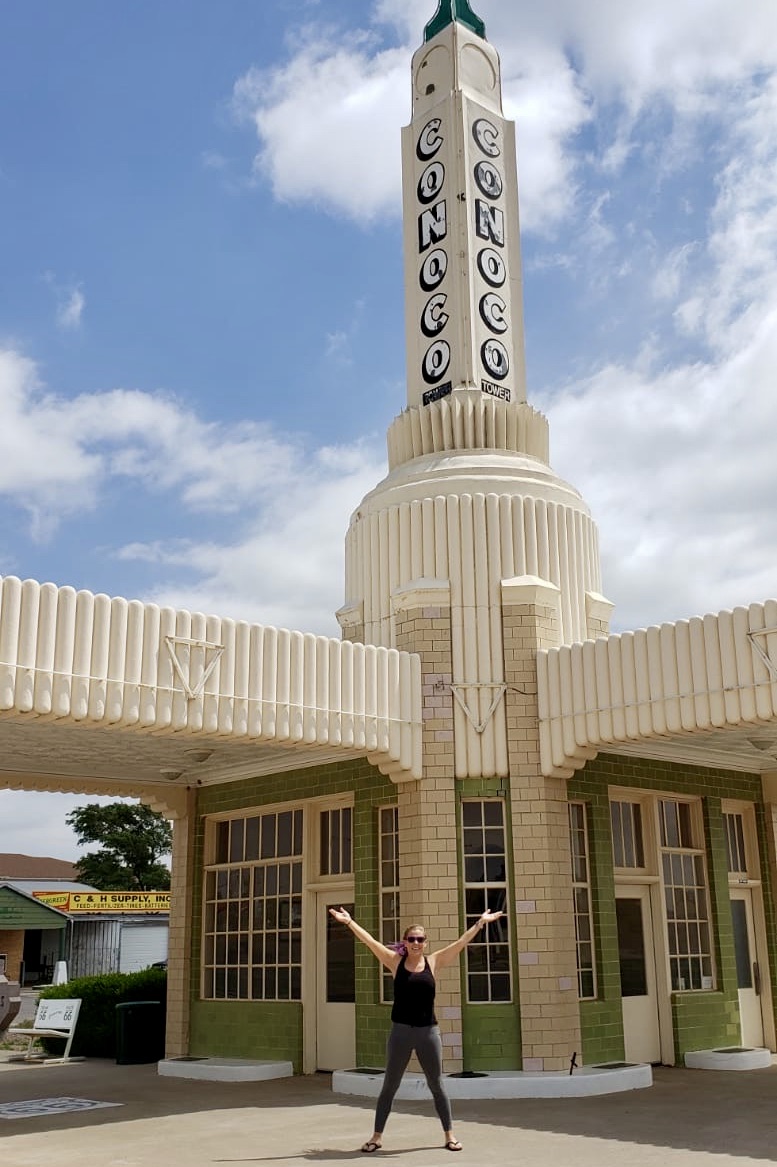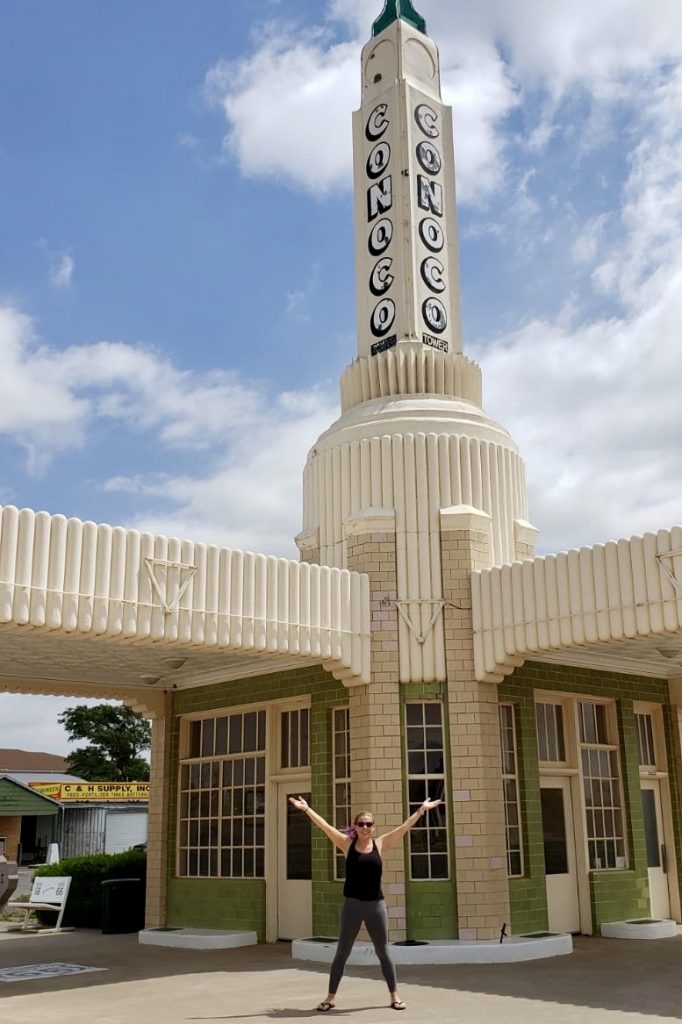 Amarillo, TX
First, stop and visit Crocodile Lile. His studio, Lile Art Gallery, is on 6th street. The day before, while driving, I was calling places on the route to see what was open. I called a number in the guide book, and I met Croc. I was just calling to see if his studio would be open the next day. After confirming it was, I went to hang up. Croc stopped me, "Wait, not so fast. Who are you? Where are you from? Where are you headed?" He said to call him if we had any questions about places to go or stay. He was serious. I felt like we were old friends by the time I made it to his gallery. After you visit him, have some lunch or a drink at one of the bars on 6th street. Also, check out the Bug Farm, which is a bunch of VW Bugs buried halfway in the ground. Less busy than the famous Cadillac Ranch.
NOTE: We planned to stay at The Big Texan Motel, a famous route 66 attractions. Croc told us that they, among other things, did not financially support Route 66. We decided to stay elsewhere. Please do your own research.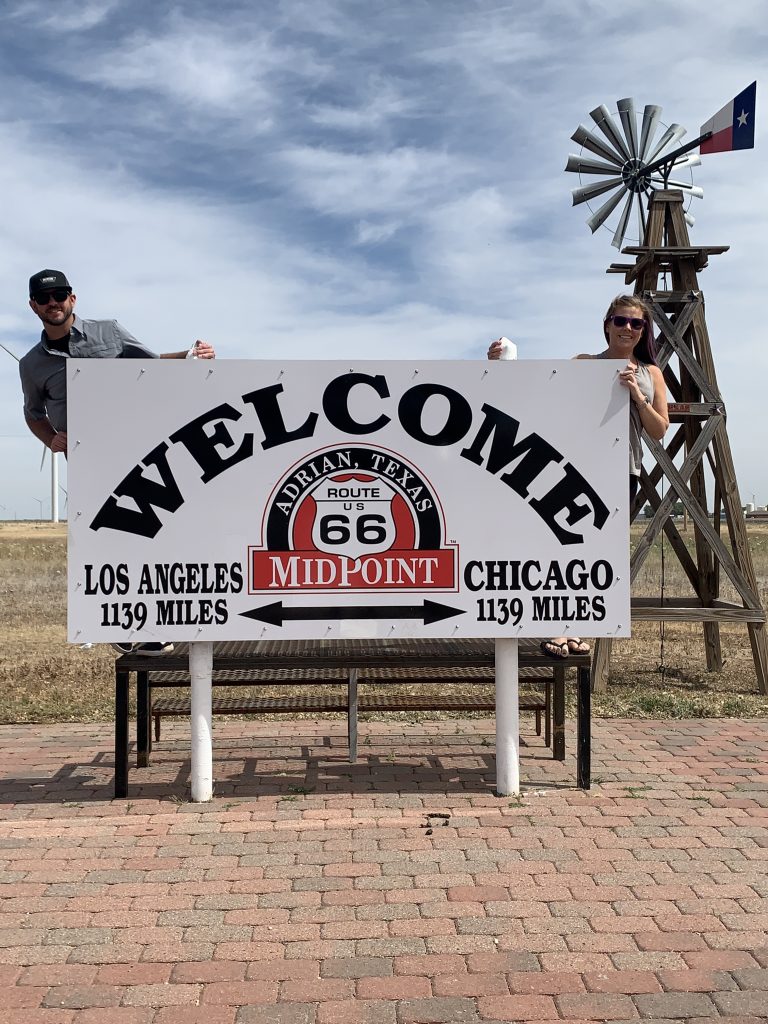 Congrats, you made it halfway on your Route 66 journey. Stop and take a photo at the official sign. Then visit the Midpoint Cafe for the coconut pie. The original owner of the MidPoint Cafe, Fran, was the inspiration for the "Cars" character, Flo. Look for a red truck covered in autographs. I didn't find out about the truck until after my visit.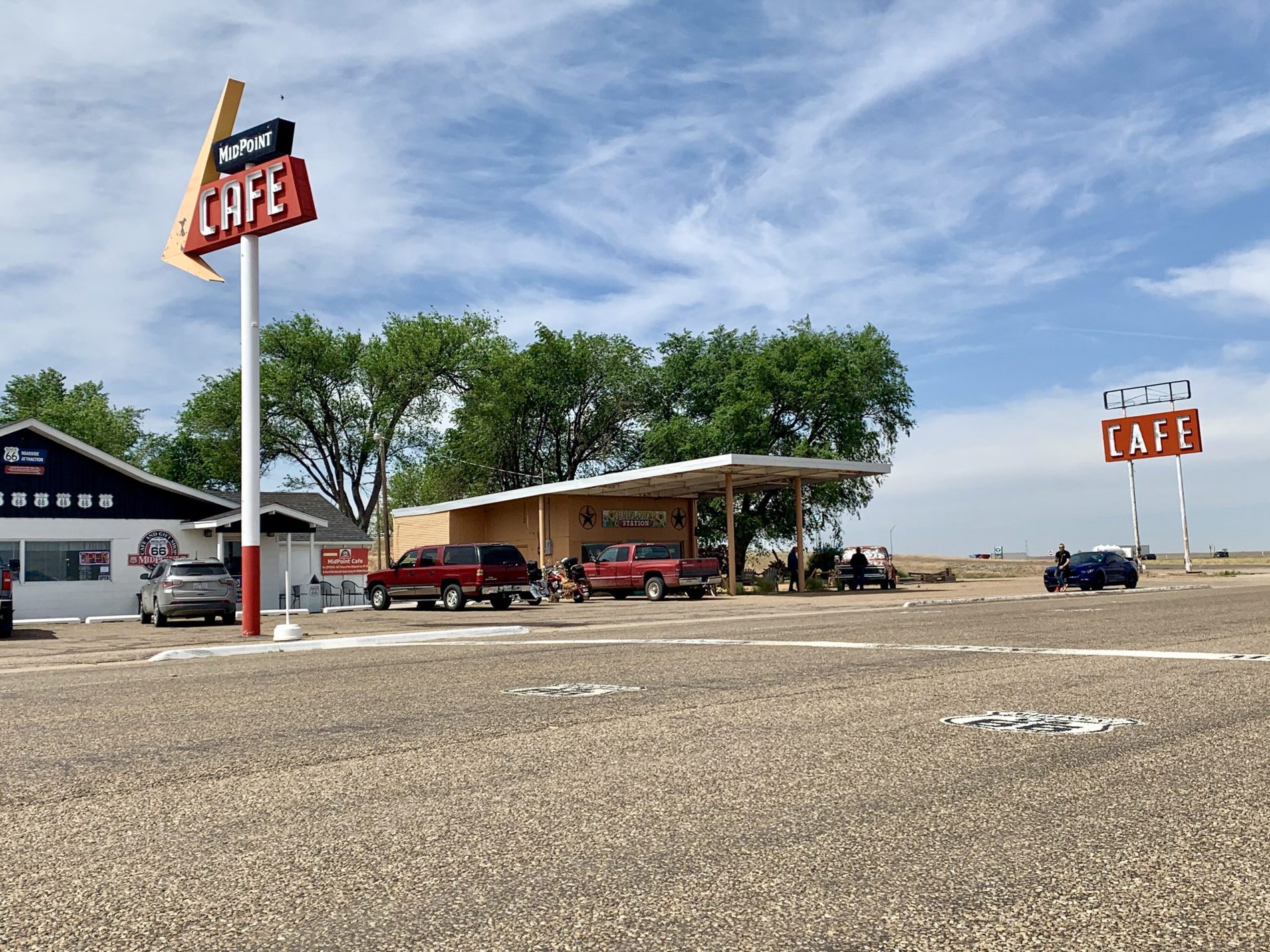 Route 66: New Mexico
On the way out of town from Santa Rosa, on the right side, was a small brewery. Cliff spotted it, and the door was open. Screeching breaks. U-Turn. The brewery wasn't open for dine-in, but they were selling growlers of their lager. Check it out and support local breweries.
Santa Rosa, NM is known for the Blue Hole, a popular diving spot. During our trip, it was closed, but we were able to get take-out from Joseph's and sit in the park. Great Food.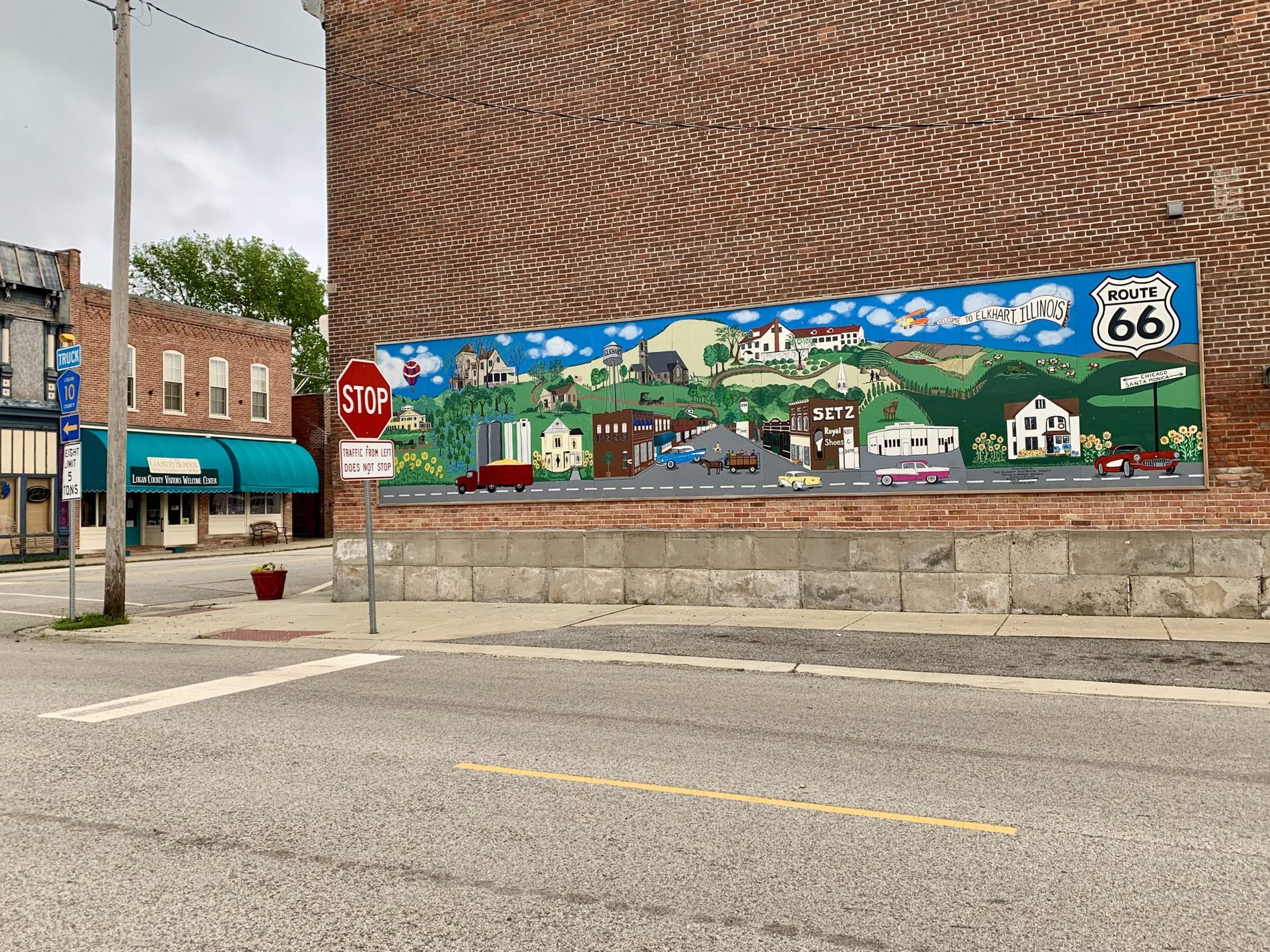 If it weren't for Croc's recommendation, we would have driven right by this travel plaza. From the outside, it looks like your typical highway plaza with a gas station and convenience store. In the back corner of the store is a doorway that leads to a classic car and memorabilia museum. Free and worth a visit. Although, I was upset to learn that floppy disk's, flip phones, and handheld TVs are now considered "classic." The Travel Center also has a Route 66 Diner and a Chapel.
The Ghost Town of Cuervo, NM
We were following the original dirt Route 66 through New Mexico when we stumbled upon this Ghost Town. Many of the buildings, including a church and schoolhouse, are still intact and look like people just left a few months ago. Cuervo is one of the "newer" ghost towns on the route. It was an incorporated town until 2011 when the post office shut down and still has 58 residents.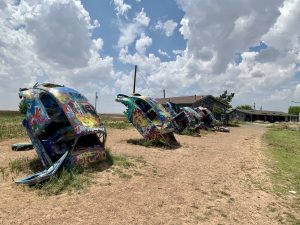 Six miles east of Route 66 near Romerioville, NM is the town of Las Vegas. There are no casinos or flashy lights. But they do have a Moth Infestation. (Yes, moths) Despite the moths, I recommend staying at The Castaneda hotel. Originally built in 1898, it was recently restored and is beautiful. You feel like you are transported back in time. They also do tours if you don't have time to stay the night.
REVENGE OF THE MOTHS
Now about the moths. Imagine. I am in a creepy old hotel. Due to COVID, we were one of the only guests. I am going to take a shower. Everything is pretty standard at this point. Until I turn on the water, and I see two moths flying around. I kill them. Then I turn around, and I see three more. As I try to kill them, two more appear and then two more. I don't know where they are coming from. Clif hears the commotion and knocks on the door. He opens it to find me standing in the middle of the bathroom, crying and swatting moths. Long story short, I made him stand in the bathroom while I showered and then held my pee for the rest of the night.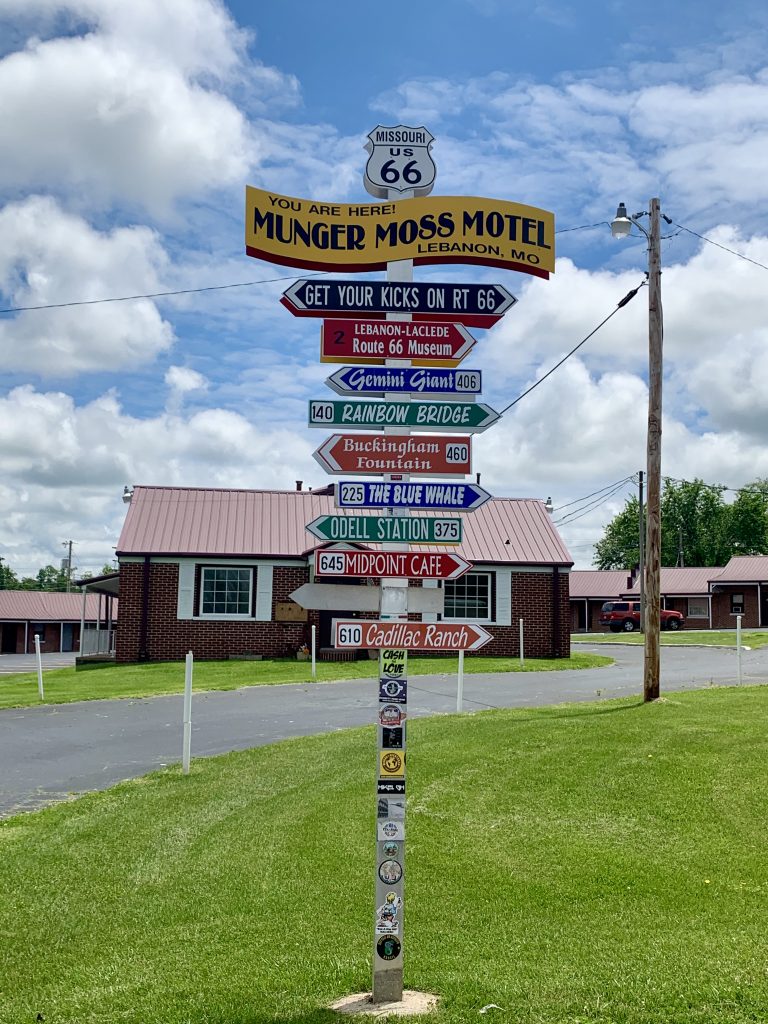 Sadly, we ended our trip in Las Vegas, NM, and headed up towards Colorado but do plan to finish the route this summer. Please comment if you have any suggestions for the rest of the journey. I hope this article motivated you to explore Route 66 during the pandemic.
Route 66 Resources
For more Disney-Pixar "Cars" references: https://www.route66news.com/2006/06/09/a-route-66-guide-to-cars-movie/
Guide Books: EZ66 and Moon Route 66 Road Trip
Stay up to date on everything Route 66: https://www.route66news.com/
Check out this guide to Route 66 in Illinois: https://www.nps.gov/nr/travel/route66/illinois_road_segments.html
This page contains affiliate links, and I may receive compensation if you click on a link. You can read my full advertising disclosure here.